Roosterman
(MA/SR Scrapper)

Accidentally discovering an illegal cock-fighting ring, animal rights activist Melvin Fowler was in danger of being murdered by scores of drunken blood thirsty bird owners and gamblers when the spirit of a deceased former champion rooster inhabited him!!! Within moments he had defeated the evil doers and freed his breathren. His crowing strikes fear in other roosters and criminals alike.
On the other hand, perhaps Melvin Fowler just went mad and instead likes to dress up as a chicken...
Beware the rooster, he awakes at dawn!

"It's the Eye of the Rooster"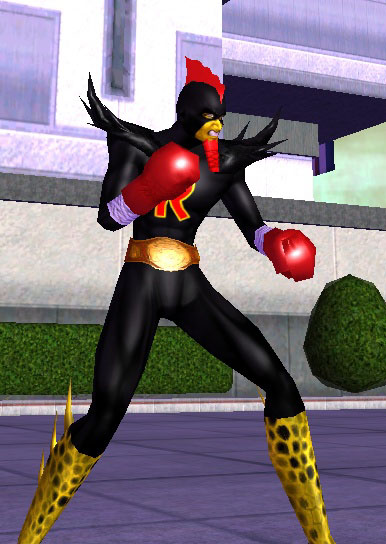 Ready for all foes, and Colonel Sanders...


I AGREE TO THE CITY OF HEROES FAN SITE AGREEMENT