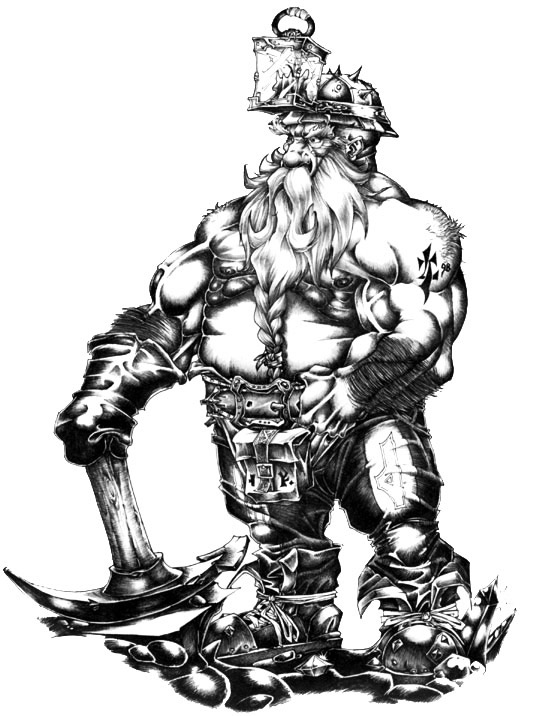 Story of the Dwarves under the Granite Mountain:
There once was a time when a small group of stout dwarves lived under the Granite Mountain. It was the hardest toil of all, mining that type of earth. But they loved to work and they reveled in their drink when the day was done. The proud dwarves were steadfast in their desire to make this their home. They were compassionate and generous to all they came in contact with that were just and good. Their whole kingdom was dedicated to the cause, and their sweat and toil was rewarded by their deities as all manner of ores and gems could be found in their bountiful mount.
Thus after many generations of methodical work the mountain was composed of myriad levels and innumerable beautiful caverns. At long last, the mountain gave up the last of its ore in a magnificent mother load of mithril and adamantite. This day was hailed as and rejoiced over and became a clan wide holiday lasting an entire year for it meant both the closing of an era and the start of a new one. A new economy and a new cause for their people.
Over the year there was much friendly debate and rejoicing. Should they become more militaristic and become mercenaries? But although skilled in the warring arts, such was not their way. Should they leave their beloved home for a new mount and search out new gems? This seemed out of the question. Become Jewelers, Watchmakers, Machina crafters? The debate went on and on, always while quaffing a large mug of brew and keeping good humor as was demanded of the holiday.
The discovery of a hidden valley literally covered in gemstones they took as a signal to not leave their home, worry about gems, and not hire their services as warriors, as money was no longer an issue. The clerics consulted the gods, and the answers were near universal. Follow your love and the clan will follow. The clan rejoiced again, as the gods were clear, cryptic as the message was.
Yet the year was ending, and no course was set. They decided on a firm course of action, confident on their ability to reach a decision before years end. They threw a party.
All nearby peoples were welcomed to attend. All alliances were renewed with generous treaties in favor of the attendees. A greater party had not ever been seen in all the land. All manner of drinks were provided, stout beer, ale, wine purchased from elves, whiskey from the gnomes, porter of their own creation.
But alas, eventually the kegs went dry. A large table full of leaders of several peoples were gathered when it happened.
The halfling leader exclaimed. "But I loved that brew!"
"Aye," replied the gnome king, "tis a crime it is finished."
"Agreed, for a non wine, twas the best brew I ever have tasted," exclaimed the Elf King.
And the Dwarven King, shed a tear. Both for the knowledge that it was indeed a marvelous drink and now completed, but also that his clan's path was now clear. He would do what the clan loved.
They would be the perfect brewery and supply kingdoms across the land and across the planes with their drink, and never again would run short of their supply...
And thus began the new age, many caverns were converted to breweries, and storage areas. Peoples from across the planes were brought in and paid handsomely for their knowledge, and new drinks abounded. New portals were opened across the planes. Great wizards such as Good Magician Palfrey constructed tele-pads to aid in delivery of their goods and reduce wastage of their brew. It also allowed for a ready team of dwarven defenders to arrive should the product be in jeopardy. The dwarves excelled at their new task.
And the new age was upon them and they smiled a red nosed smile.